Align MiniGRS Flybarless System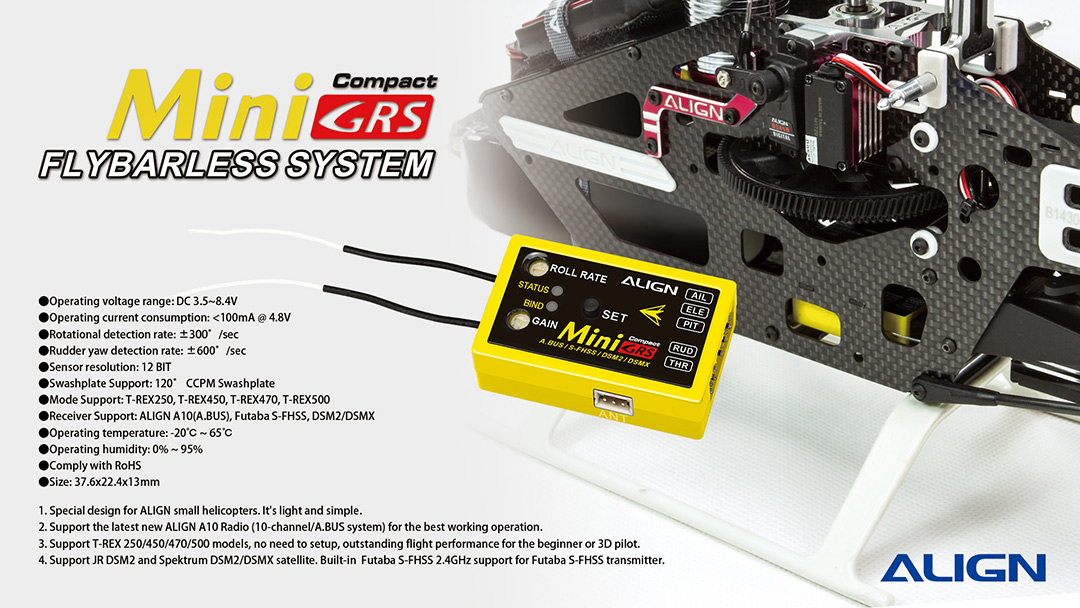 Fits: T-REX 250、T-REX 300、T-REX 450、T-REX470、T-REX500.
• Special design for ALIGN small helicopters. It's light and simple.
• Support the latest new ALIGN A10 Radio (10-channel/A.BUS system) for the best working operation.
• Support T-REX 250/300/450/470/500 models, no need to setup, outstanding flight performance for the beginner or 3D pilot.
• Support JR DSM2 and Spektrum DSM2/DSMX satellite. Built-in Futaba S-FHSS 2.4GHz support for Futaba S-FHSS transmitter.
Accessories:
• MiniGRS electronics board set x 1
• MiniGRS Signal Wire x 1
• MiniGRS Binding Plug x 1
• Plastic Flat Screwdriver - Black × 1
• Double Sided Tape x 1
Specifications
• Operating voltage range: DC 3.5~8.4V
• Operating current consumption: <100mA @ 4.8V
• Rotational detection rate: ±300°/sec
• Rudder yaw detection rate: ±600°/sec
• Sensor resolution: 12 BIT
• Swashplate Support: 120° CCPM Swashplate
• Mode Support: T-REX250、T-REX300、T-REX450、T-REX470、T-REX500
• Receiver Support: ALIGN A10/A13(A.BUS), Futaba S-FHSS, DSM2/DSMX
• Operating temperature: -20℃ ~ 65℃
• Operating humidity: 0% ~ 95%
• Comply with RoHS
• Size: 37.6x22.4x13mm
Parts & Accessories