SKYRC iMAX B6mini Professional Balance Charger/Discharger
Part Number: SK-IMAXB6MINI
iMAX B6mini Professional Balance Charger/Discharger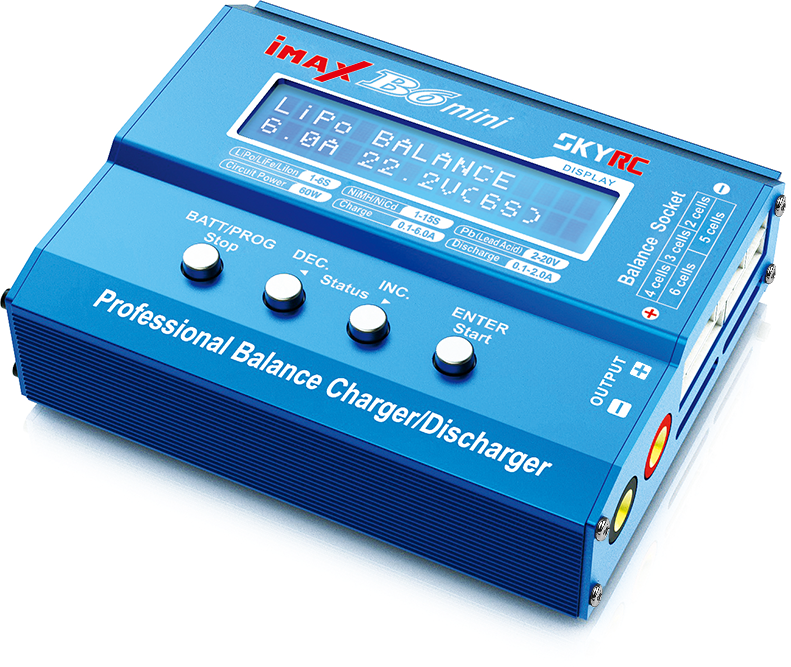 Overview
As an upgraded version of well-known IMAX B6 charger, SkyRC IMAX B6 mini is smaller but with bigger power, and new features and functions are integrated. What's more, users could connect it to PC for PC control and firmware upgrade, and use it as Lithium Battery Meter and Battery Internal Resistance Meter.
SkyRC B6 mini charger is a high-performance, micro-processor controlled charge/discharge station with battery management suitable for use with all current battery types, with integral equalizer for six-cell Lithium- Polymer (LiPo), Lithium High Voltage(LiHV),Lithium-Ferrum (LiFe) and Lithium-Ion (LiIon) batteries; maximum 6A charge current and 60W charge power.
Features
• Lithium Battery Balancer
• Program Data Store/Load
• Battery Resistance Meter
• Battery Voltage Meter
• Maximum Safety
• Terminal Voltage Control (TVC)
Built-in Cooling Fan
With Built in cooling fan, its heat emission efficiency is higher.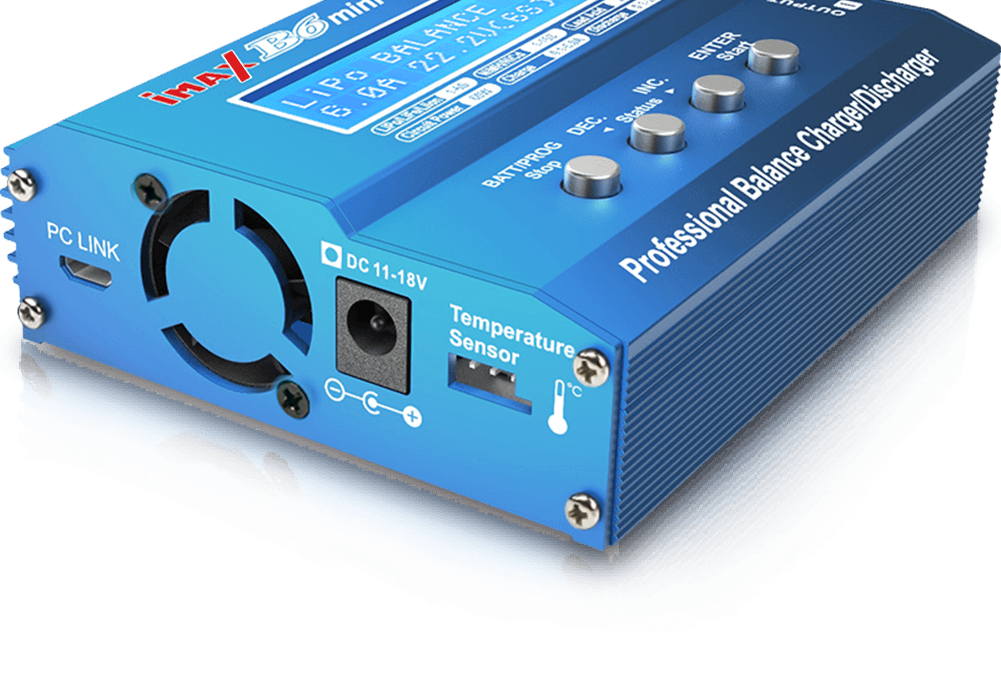 Temperature Probe Socket
If the temperature limit is reached, the process will be terminated.
*This function is available by connecting optional temperature probe, which is not included in the package.
*Optional Temperature Probe SK-600040

2-6S XH Plug-in Balance Sockets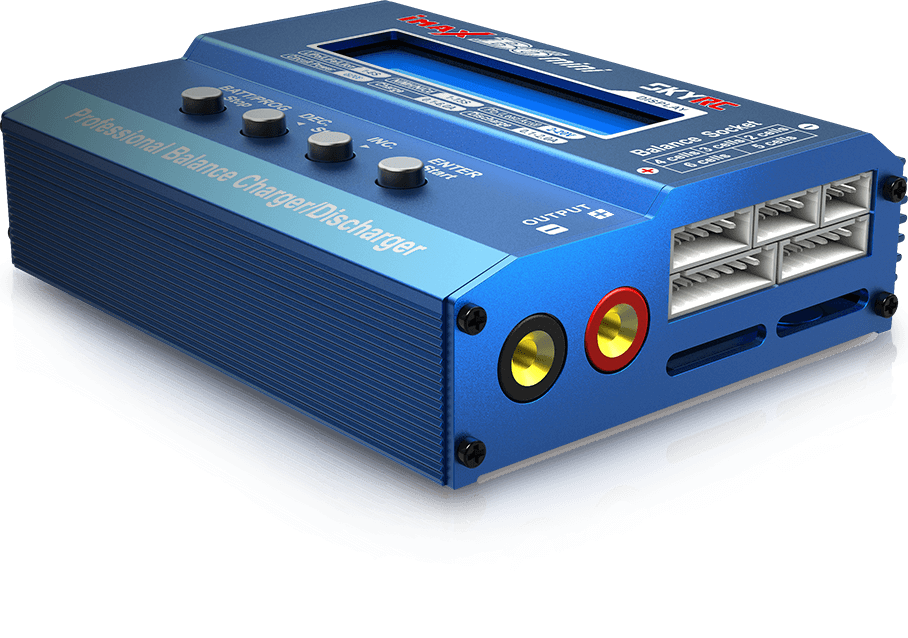 LiHV Mode Available
With LiHV mode available, B6 mini is able to charge the 4.35V high voltage LiPo battery.

Different Charging Modes
B6 mini supports various charging modes to users' convenience.
• Normal Charge
• Auto Charge
• Fast Charge
• Balance Charge
• Discharge
• Storage
• Cycle
• Re-Peak
PC Control
The user can monitor pack voltage, cell voltage and other data during the charging, view charge data in realtime graphs, and can also control the charger from "ChargeMaster".
Smart Phone Control & Monitor Via Module
This charger can be controlled and operated by smart phones via WiFi module (both iOS and Android ).
*Optional WiFi Module SK-600075. Also HP-EOSWIFIMOD EOS connect WiFi module can be used with this charger.
What's in the Box
• iMAX B6mini
• DC Cable with Alligator Clip
• T Plug with Banana Connector Charging Cable
• T Plug with Alligator Clip Connector Charging Cable
• T Plug with XT60 Connector Charging Cable
• T Plug with Futaba Connector Charging Cable
• T Plug with JST Connector Charging Cable
• Instruction Manual
Specifications
• DC Input Voltage: 11-18V
• Display Type: 2x16 LCD
• Display Backlight: Blue
• Case Material: Metal
• Controls: Four Buttons
• PC Communications: USB Port for PC Control & Firmware Upgrade
• External Port:

◦2-6S Balance Socket-XH
◦Temperature Probe Socket
◦Battery Socket
◦DC Input
◦Micro USB Port for PC

• Delta Peak Detection for NiMH/NiCd: 5-15mV/cell / Default: 4mV/cell
• Charge Cutoff Temperature: 20ºC/68ºF-80ºC/176ºF(adjustable)
• Charge Voltage:

◦NiMH/NiCd: Delta peak detection
◦LiPo: 4.18-4.25V/cell
◦LiIon: 4.08-4.2V/cell
◦LiFe: 3.58-3.7V/cell
◦LiHV: 4.25-4.35V/cell

• Balance Current: 200mA/cell
• Reading Voltage Range: 0.1-25.8V/cell
• Battery Types/Cells:

◦LiPo/LiIon/LiFe/LiHV: 1-6cells
◦NiMH/NiCd: 1-15cells
◦Pb: 2-20V

• Battery Capacity Range:

◦NiMH/NiCd: 100-50000mAh
◦LiPo/LiIon/LiFe/LiHV: 100-50000mAh
◦Pb: 100-50000mAh

• Charge Current Range: 0.1A-6.0A
• Safety Timer: 1-720minutes off
• Charge Wattage: 60W
• Discharge Current Range: 0.1A-2.0A
• Discharge Cut-off Voltage:

◦NiMH/NiCd: 0.1-1.1V/cell
◦LiPo: 3.0-3.3V/cell, LiIon: 2.9—3.2V/cell
◦LiFe: 2.6-2.9V/cell, LiHV: 3.1-3.4V/cell
◦Pb: 1.8V

• Discharge Wattage: 5W
• Balance Cells: 2-6 cells
• Memory: 10 different charge/discharge profiles
• Charge Method:

◦CC/CV for lithium types and lead (Pb) batteries
◦Delta-peak Sensitivity for NiMH/NiCd.

• Weight: 233g
• Case Size:

◦Length: 84mm
◦Width: 102mm
◦Height: 29mm
Parts & Accessories