ZTW Gecko 125 Amp ESC w/ SBEC8
Overview
ZTW Gecko series ESC is a high-quality, efficient brushless Electronic Speed Controller (ESC) with an integrated switch-mode BEC. It can operate without the need for a separate receiver battery to power your servos and receivers, saving you weight and complication. This series of ESC also features an exposed, finned heat sink aluminum case with lightweight plastic endcaps. Additional features include safe power arming along with advanced programming, data logging system, low voltage cutoff, braking, timing, throttle input range, and more, making this series truly a pro series ESC. Also, this ESC can be programmed by using your transmitter or optional program card.
As the development of the electronic and popular demand of the market, ZTW BEC has been specifically designed for extreme aerobatics and therefore has the capability to support the higher current applications to eliminate the possibility of unwanted shutdowns, and is also capable of supporting continuous simultaneous multiple servo operations typically found in CCPM equipped hardcore 3D E-helicopters.
Features
• Data logging system such as temperature, voltage, current, RPM.
• SBEC Voltage Output 5.0, 6.0 7.4, 8.4V adjustable.
• High SBEC Current Output, continuous 8A and burst 16A, designed to meet your high current application.
• Power arm protection, over-heat protection, low-voltage protection and lost-signal protection.
• Secondary sub-menu setting by LCD program card or PC interface.
• Firmware updating by PC interface.
• Unique metal shape designing gives your new fashion visual impact.
• Super smooth and accurate throttle linearity.
• Support and match with most of the motors, including high RPM motors.
• Advanced Governor Mode and soft start.
• Programmable motor timing.
• Utilizes new smaller MOSFET technology to minimize weight.
• Finned heat sink.
• Programmable throttle input range.
• Auto motor shut down if signal is lost or there is interference.
• Optional special programing card with LCD (sold separately)
Reliable quality, great performance
Gecko utilizes aluminum canopy, so its appearance is more attractive than other brand. Reduce damage possibility with high load obviously while output violent power. All the components are imported, to ensure high quality and reliability.
BEC built-in, easy to control
Super good BEC, output adjustable 5/6/7.4/8.4V, continuous 8A current and improve burst current 16A. Drive normal servo and high voltage servo easily. Fast throttle response, make sure controlling airplane easily even at highly difficult action. (SBEC version only)
Protect your beloved airplane
Automatically reduce output power while the temperature reach more than 110℃, recover power while the temperature is under 100℃.
The ESC itself won't startup motor even though radio sticker raised to higher position while power on, in order to avoid motor spin suddenly.
Fast throttle response, more stable
Thanks to technology of sync Rectifier drive power optimization, bring to fast throttle response and linear control experience. Makes flight more stable.
Support upgrading firmware via PC
Customer can upgrade the firmware with ZTW software and program card to get newest functions.
Data memory
ESC can record data of highest temperature of ESC itself and motor, highest rotate speed etc. Customer can read them with LCD program card or wifi module. (sold separately)
Specifications
• Continuous current: 125A
• Burst current: 150A
• Input voltage range: 5-18 NC / 2-6S LiPo
• BEC output: 5.0V,6.0V,7.4V,8.4V adjustable / 8A
• Dimension(L*W*H): 65*46*17
• Weight: 126g
Programming options
• Breake Type: Breake OFF*, Soft Breake, Mid Breake, Hard Breake
• Battery Type: NiCD/NiMH, LiPo*, LiFe
• Cut Off Voltage Threshold: 2.8V/50%, 3.0V/60%*, 3.2V/65%, No Protection
• Restore Factory Setup Defaults: Restore
• Motor Timing: Auto*, 2°, 8°, 15°, 22°, 30°
• SBEC Voltage Output**: 5.0V*, 6.0V, 7.4V, 8.4V
• Governor Mode: RPM OFF*, 1st Soft Start, 2nd Soft Start, Governor Mode 1, Governor Mode 2
• Motor Rotation: Forward*, Reverse
• Start Up Strength: 10%, 15%, 20%, 25%, 30%*, 35%, 40%, 45%, 50%
• Low Voltage Cut Off Type: Reduce Power*, Cut Off Power
*Default Setting
Note**: OPTO version doesn't have SBEC Output function.
Software&Firmware Download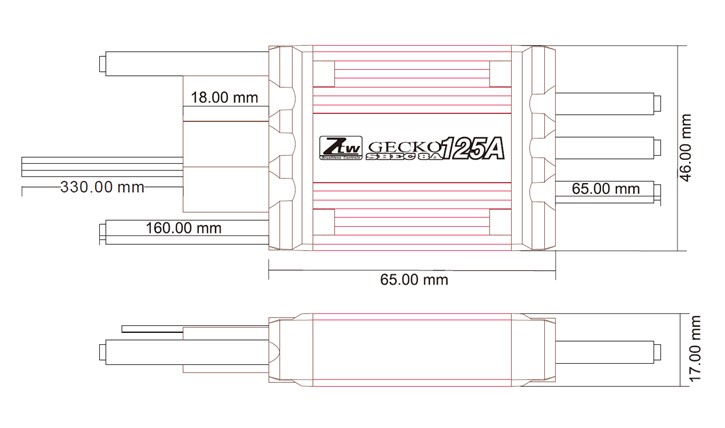 Parts & Accessories