ZTW Mantis 12 Amp ESC w/BEC
Overview
ZTW Mantis series ESC is a medium level product line designed for fixed wing and Helis. It features super smooth start up and throttle linearity, multiple protection, strong BEC output, low cost and best performance at this level of product. This ESC can be programmed by using your transmitter or optional program card.
Features
• Super smooth and accurate throttle linearity
• Safety thermal over-load protection
• Auto throttle shut down in signal lose situation
• Low Voltage Cut off
• Governor Mode
• Strong BEC Output
• Optional special program card (sold separately)
Compact body, excellent performance
Mantis 12A BEC weighs only 10g, reduce load greatly for drone, meanwhile keep powerful functions and easy to control.
Optional special program card
Special program card is available for Mantis ESC and it can set parameters, record and read data easily.(sold separately)
Protect your beloved plane
Over temperature protection: Automatically reduce output power while the temperature reach more than 110℃, recover power while the temperature is under 100℃.
Electrify safety: The ESC itself won't startup motor even though radio sticker raised to higher position while power on, in order to avoid motor spin suddenly.
Specifications
• Continuous current:12A
• Burst current: 16A
• Input voltage range: 5-12 NC / 2-4S LiPo
• BEC output: 5V/1A
• Dimension(L*W*H): 23*22*8
• Weight: 10g
Programming options
• Breake Type: Breake OFF*, Soft Breake, Mid Breake, Hard Breake
• Battery Type: NiCD/NiMH, LiPo*, LiFe
• Cut Off Voltage Threshold: 2.8V/50%, 3.0V/60%*, 3.2V/65%, No Protection
• Restore Factory Setup Defaults: Restore
• Motor Timing: Auto*, 2°, 8°, 15°, 22°, 30°
• BEC Voltage Output: 5.0V*, 5.5V, 6.0V
• Governor Mode: RPM OFF*, 1st Soft Start, 2nd Soft Start, Governor Mode 1, Governor Mode 2
• Motor Rotation: Forward*, Reverse
• Start Up Strength: 10%, 15%, 20%, 25%, 30%*, 35%, 40%, 45%, 50%
• Low Voltage Cut Off Type: Reduce Power*, Cut Off Power
* Default setting
Note: BEC Voltage Output setting for 6A and 12A ESC is 5.0V fixied.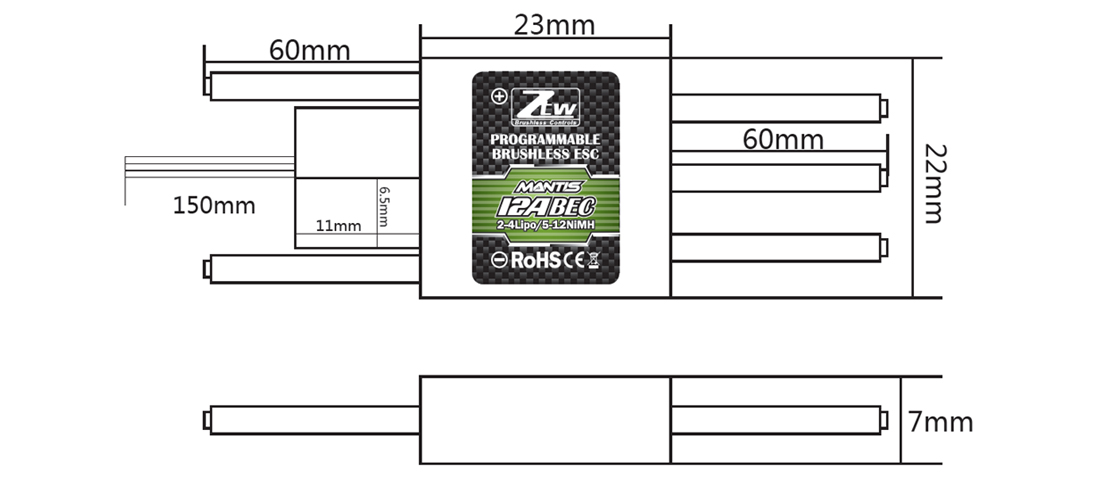 Parts & Accessories