ZTW SEAL 300A OPTO HV 14S
Overview
Compared to RC Car and Airplane, RC Boat ESC requests higher current load, and spread out higher heat. So the ESC must perform better at heat sink area. ZTW SEAL series ESC is designed exclusively for this problem, customers don't need to worry about ESC heat and enjoy the great performance.
Features
1.Programmable two way mode.
2.over-heat protection, low-voltage protection and lost-signal protection.
3.Secondary sub-menu setting by LCD program card or PC interface.
4.Firmware updating by PC interface.
5.Unique metal shape designing gives your new fashion visual impact.
6.Super smooth and accurate throttle linearity.
7.Support and match with most of the motors, including high RPM motors.
8.Programmable motor timing.
9.Utilizes new smaller MOSFET technology to minimize weight.
10.Auto motor shut down if signal is lost or there is interference.
11.Insterted Anti-spark circuit on the PCB.
Higher Reliability and Durability
SEAL utilizes aluminum canopy, so its appearance is more attractive than other brand. Strong hardware and advanced software, reduce damage possibility with high load obviously while output violent power. Low voltage protection, high temperature protection, out of control protection improve reliability and durability to another altitude.
Remark: Only SEAL 300A OPTO HV 14S ESC completely using aluminum.
Stable and Reliable Heat Sink
Customized heat sinks and copper heat protection, good heat conduction water cooling module, build a water pipe at each MOS tube of power amplifier board. Construct to a super reliable cooling system.
Industrial Level Waterproof Design
Waterproof design completely, protect the ESC well even at extreme environment.
Protect Your Beloved Boat
Over Temperature Protection: Automatically reduce output power while the temperature reach more than 110℃, recover power while the temperature is under 100℃.
Electrify Safety: The ESC itself won't startup motor even though radio sticker raised to higher position while power on, in order to avoid motor spin suddenly.
Specifications
Product Item
 
SEAL 300A OPTO HV 14S
Model Number
 
6300400
Form
Brushed / Brushless
Brushless
 
HV / Normal
HV
Hardware Parameters
Continuous Current (A)
300A
 
Burst Current(A)
1000A
 
Battery Cell (NiXX/Lipo)
18-42 NC/6-14 Lipo
 
BEC output
/
Dimensions
Length
84mm
 
Width
146mm
 
Height
28.6mm
 
Weight
640g
Wire & Plug
Power Wire
8#AWG,160mm-Red/160mm-Black
 
Motor Wire
8#AWG,160mm-Black
 
Signal Wire 1
(Brown/Red/Orange)60C,add a special JR male connector at the end of 330mm wire
 
Signal Wire 2
(Brown/Red/Orange)30C,add a special JR male connector at the end of 150mm wire
 
Power Plug (Yes/No)
no
Parameter programming
Transmitter
yes
 
Jumper programming card
 
 
LCD programming card
yes
 
WiFi programming card
yes
 
USB adapter
yes
Firmware
Upgrade Firmware online
(Yes/No)
yes
ZTW ESC PC Software
ZTW Seal Series ESC PC Software
ZTW Seal Series ESC Firmware
ZTW Seal 300A and 500A ESC firmware
ZTW LCD Program Card Firmware
ZTW Seal Series Program Card Firmware
The Tones Sequence and Code
1. Beep- : Brake Type (1 short beep)
2. Beep-Beep- : Battery Type (2 short beeps)
3. Beep-Beep-Beep- : Cut off Voltage Threshold (3 short beeps)
4. Beep-Beep-Beep-Beep- : Restore Factory Setup Defaults (4 short beeps)
5. Beep----- : Motor Timing (1 long beep)
6. Beep-----Beep- : Motor Rotation (1 long tone 1 short beep)
7. Beep-----Beep- Beep- : Start up Strength (1 long tone 2short beeps)
8. Beep-----Beep- Beep- Beep- : Low Voltage Cut off Type (1 long tone 3 short beeps)

Tone of value


Prog.Item
BEEP-
BEEP-
BEEP-
BEEP-
BEEP-BEEP-
BEEP-
BEEP- BEEP-
BEEP-
BEEP—
BEEP—
BEEP-
BEEP—
BEEP-
BEEP-
BEEP—
BEEP-
BEEP-
BEEP-
BEEP—
BEEP-
BEEP-
BEEP-
BEEP-
 
1 short beep
2 short beeps
3 short beeps
4 short beeps
1 long beep
1 long BEEP & 1 short BEE
1 long BEEP & 2 short BEEPs
1 long BEEP & 3 short BEEPs
1 long BEEP & 4 short BEEPs
 
Brake Type
Brake OFF
Soft Brake
Mid Brake
Hard Brake
 
 
 
 
 
 
Battery Type
NiCd/NiMH
LiPo
LiFe
 
 
 
 
 
 
 
Cut Off Voltage Threshold
2.8V/50%
3.0V/60%
3.2V/65%
No Protection
 
 
 
 
 
 
Restore Factory Setup Defaults
Restore
 
 
 
 
 
 
 
 
 
Motor Timing
Auto
2°
8°
15°
22°
30°
 
 
 
 
Motor Rotation
Forward
Reverse
 
 
 
 
 
 
 
 
Start Up Strength
10%
15%
20%
25%
30%
35%
40%
45%
50%
 
Low Voltage Cut Off Type
Reduce Power
Cut Off Power
 
 
 
 
 
 
 
Default
Brake Type: Brake Off
Battery Type: LiPo with Automatic Cell detective
Cut Off Voltage Threshold: 3.0V/60%
Motor Timing: Auto
Motor Rotation: Forward
Start Up Strength: 30%
Low Voltage Cut Off Type: Reduce Power
Dimensions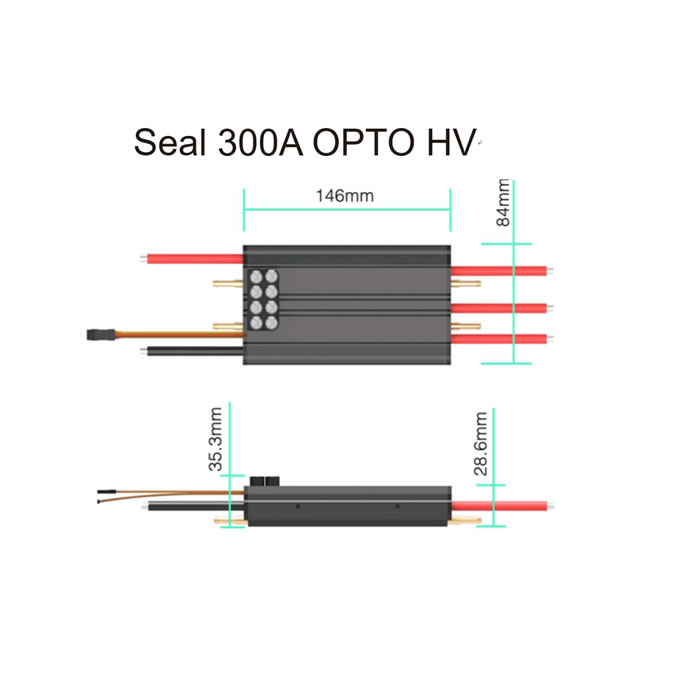 Parts & Accessories